Educational tennis organization setting the standards for a sustainable global tennis growth based on the application of the TENNIS 3.0 benchmark in the coaching at every level of the game
 Founding partner of "TENNIS 3.0 INITIATIVE"
Czech Professional Tennis Association (CPTA) was established in 1992 by Dr. Martin G. Baroch (Dr.MGB) and a group of Czech tennis coaches believing in the importance of the high-quality education in the coaching profession. CPTA was established during the first private tennis coaches education course in the Eastern Europe, which was organized by Dr. MGB in the Czech capital of Prague. Over the past 24 years, CPTA/Dr.MGB have organized independent educational courses and seminars for coaches in the Czech Republic, Slovakia as well as in Switzerland and significantly influenced the level of tennis knowledge in these countries, which belong to the dominant tennis nations on the world scale as of today. In addition to that, Dr. MGB has conducted breakthrough seminars for tennis coaches and tennis clinics on 3 continents and many elements from his Dynamic Total Body Tennis (DTBT) learning and training methodology have found their way into the training systems in many countries.
Coach education and certification in TENNIS 3.0 / DTBT as part of global "TENNIS 3.0 INITIATIVE"
TENNIS 3.0 is a newly established tennis stroke production benchmark supporting sustainable game development and growth, be it with each playing individual or with the game as a whole. The key essence of TENNIS 3.0 is in the effort to power/dominate the majority of the tennis strokes in an efficient and body-friendly way mainly with the energy generated from the body action and not predominantly from the arm action, which has to be seen as a lower developmental level of the game - Tennis 2.0. There will be certainly always some trick strokes and strokes played in the emergency, where the arm action will be prevalent, but TENNIS 3.0 benchmark addresses the vast majority of the strokes being played during a match or just in a hitting session of any form and level. Looking at the very best of the today's professional tennis, the higher level the player has, the higher amount of his/her strokes fulfills the TENNIS 3.0 benchmark and this mostly at a higher degree of the fulfillment. And in general, the higher the degree of the TENNIS 3.0 fulfillment, the better the chance for further sustainable development of the players at any age and level (from juniors over adults/professional players all the way to seniors and even beginners of any age).
For each tennis stroke, TENNIS 3.0 as a benchmark has a set of key reference points, mainly around the elbow action/position in relation to the body, which determines body energy dominance upon the racket/ball.
TENNIS 3.0 CODE is a set of essential easy to follow logical technical/mental guidelines (algorithms), which should be followed in the course of the stroke in order to qualify as TENNIS 3.0.
Dynamic Total Body Tennis (DTBT) is then a universal and fully scalable tennis learning and training methodology leading to the development of the TENNIS 3.0 strokes and style of the game while using the appropriate TENNIS 3.0 CODE elements at every age and skill level. The essential principles of the DTBT methodology are "3 Step Tennis Stroke Regulation" & "Last 20% Decide/s It All".
Tennis as a very complex sport can't be seen just from the perspective of the stroke production/technique. Besides stroke mechanics and motor learning aspects; tactical, physical, mental, emotional, social and environmental elements play also a crucial role in the training and developmental process. TENNIS 3.0 as a comprehensive concept, with a base in the world-famous Czech Tennis School, thus incorporates also the essential elements from the above-mentioned fields.
CPTA offers a portfolio of educational courses and certification in TENNIS 3.0/DTBT.
The Introductory Course (ground course) leading to Instructor level certification in TENNIS 3.0/DTBT consists of 15 hours of both theoretical and practical instruction. This course enables the participants with previous teaching/coaching experience to teach TENNIS 3.0 principles to players of all levels.
For Coach level certification, a comprehensive Coach Course with totally 30 hours of instruction and practical participation is requested. The successful participants (with previous coaching experience) of this course will be able to apply TENNIS 3.0/DTBT principles in the work with competitive players of all levels.
In an ideal setting, the 15-hour Introductory Course is followed by additional 15 hours of instruction (Coach Course block) where more depth and complexity of information for competitive tennis is provided and additional practical coaching skills are being developed. In the case of highly diverse entry level of the participants, both courses can be organized also separately.
TENNIS 3.0
TENNIS 3.0 CODE
3 Step Tennis Stroke Regulation / Last 20% Decide/s It All
Dynamic Total Body Tennis (DTBT)
Both 15/30-hour courses are available for locations worldwide immediately. The courses are available in English, German, Czech and Serbo-Croatian. After the courses, all participants have to take a test in order to acquire the official TENNIS 3.0 / DTBT license issued by CPTA.  There will be also both courses organized in the Czech Republic in the first half of 2017.
CPTA/MBTA Competitive Practice Games is an additional 8-hour course with mainly practical on-court skills being developed and enabling the participants to apply the TENNIS 3.0 / DTBT principles in fully scalable build-up practice point games, which can be used at any age and level from beginners all the way to professional players.
CPTA as a founding member of the "TENNIS 3.0 INITIATIVE" invites all parties interested in sustainable development and global growth of the game based on quality open-end instruction to join in the efforts.
More information about the education courses as well as about the "TENNIS 3.0 INITIATIVE" is available upon request - drmgb11(at)gmail.com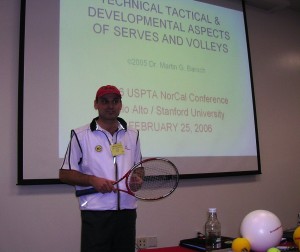 Wide range of educational tennis seminars & clinics - DTBT World Tour & "TENNIS 3.0 INITIATIVE"
CPTA / Dr. Martin G. Baroch (Dr.MGB) offer a wide range of educational seminars and instruction tennis clinics covering all aspects of the game. Over the past more than 20 years, Dr.MGB has belonged to the leading group of international tennis educators with global impact at the development of the game. With his annual seminars during the USPTA World Conferences of Tennis from 1999 to 2012 as well as with seminars during the USPTA Competitive Player Development Conferences and as long-time USPTA International Head Tester and a member of USPTA Educational Committee, Dr.MGB was able to shape the understanding of modern tennis among the leading coaches from around the world.
Besides that, Dr. MGB has offered with his DTBT World Tour seminars and clinics on 3 continents and his methodology Dynamic Total Body tennis (DTBT) has provided significant impacts at the system of tennis coaching mainly in the USA, Japan, Czech Republic, Slovakia, Switzerland and Spain. Some of Dr.MGB's seminars for the USPTA have been recorded and the DVDs from these seminars (among them also "Dynamic Total Body Tennis - Future of the Game") create a certain global educational backbone for modern tennis.
Please ask for more details and for the list of the available seminars - drmgb(at)gmail.com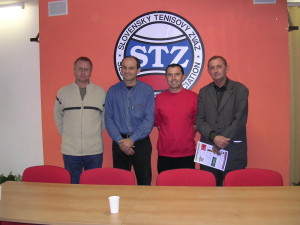 Development of sustainable tennis training systems and programming for nations, associations, clubs and schools - "TENNIS 3.0 INITIATIVE"
We believe that tennis associations should focus on the development of a framework withing their region/country, which would enable a wide base of a club and private coaches to be the best in their jobs they can be and to develop players in a sustainable way. The applied methodology should make a further growth of the players at practically every level possible while not setting any significant limits in the technical-mental complex of their game. Besides constant access to a top know-how, accessible tennis facilities and functioning competition system are also of utmost importance. Based on our long and diverse experience in player development across 3 continents, we can advise all interested parties about the most suitable practices for any scale of operations from a club/tennis school over a local association all the way to the national/international tennis governing body.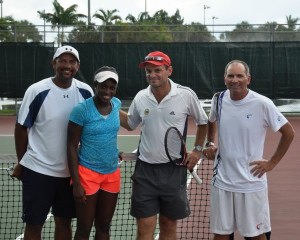 Consulting for players, parents and coaches
Dr.Martin G. Baroch, Founder/Vice-president - Director of Education for the CPTA has been providing since the late 80's numerous consulting and short to mid-term coaching for the tour players (among them Petr Korda, Martin Strelba, Sandra Kleinova, Kristina Triska, Vania King, Hana Sromova, Sloane Stephens), top national level juniors (like Daniel Soyfer, Gundega Pastore), parents and tour coaches, many of them on a non-disclosure basis. Besides working with the ATP and WTA players, he has lead also the Swiss Alpine skier Karin Roten to the Vice-World Champion title in giant slalom and provided consulting and seminars for high-level athletes as well as other top performers like the US. Air Force Academy students and coaches/teachers.
Non-disclosure consulting for the tour coaches as well as coaches of the top juniors plays an ever increasing role in the work of Dr. MGB. More information is available under drmgb11(at)gmail.com
Zdenek Janousek, Czech-based President of the CPTA has been providing since the late 90's consulting and video analysis for the Czech, Russian and German speaking market. For more information zja(at)seznam.cz 
Karel Jandus Sr., Czech-based former CPTA President is one of the world's leading experts in the field of junior tennis schools and development of a feeder system producing promising competitive junior players. For more information drmgb11(at)gmail.com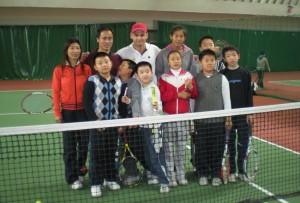 Worldwide tennis promotion programs
Over the past more than 25 years, CPTA's founder Dr. Martin G. Baroch has provided opportunities mainly for junior players from many countries to get involved in the modern sustainable way of playing tennis, where the body activity dominates the stroke action. The Czech based CPTA members have been instrumental in promoting sustainable methods of coaching withing Czech and Slovak junior tennis.