Consulting for players, parents and coaches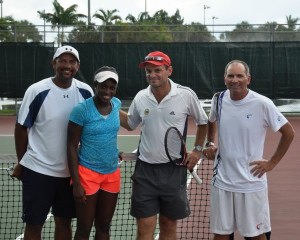 Dr.Martin G. Baroch, Founder/Vice-president - Director of Education for the CPTA has been providing since the late 80's numerous consulting and short to mid-term coaching for the tour players (among them Petr Korda, Martin Strelba, Sandra Kleinova, Kristina Triska, Vania King, Hana Sromova, Sloane Stephens), top national level juniors (like Daniel Soyfer, Gundega Pastore), parents and tour coaches, many of them on a non-disclosure basis. Besides working with the ATP and WTA players, he has lead also the Swiss Alpine skier Karin Roten to the Vice-World Champion title in giant slalom and provided consulting and seminars for high-level athletes as well as other top performers like the US. Air Force Academy students and coaches/teachers.
Non-disclosure consulting for the tour coaches as well as coaches of the top juniors plays an ever increasing role in the work of Dr. MGB. More information is available under drmgb11(at)gmail.com
Zdenek Janousek, Czech-based President of the CPTA has been providing since the late 90's consulting and video analysis for the Czech, Russian and German speaking market. For more information zja(at)seznam.cz 
Karel Jandus Sr., Czech-based former CPTA President is one of the world's leading experts in the field of junior tennis schools and development of a feeder system producing promising competitive junior players.
For more information drmgb11(at)gmail.com