Powerful Jack Sock (*92 / USA) seems to be finally arriving in the top spheres of the singles game… The beginning of 2017 has seen the 6'3" (191 cm) tall native of Nebraska reaching a career high of #17 after winning 2 ATP Tour tournaments and reaching his first ever semifinals at the ATP Tour 1000 Masters Series level event in Indian Wells. For me personally, this Jack's improvement is something, I have been waiting for, for quite a long time already…
I have had the opportunity to deeper analyzed young Jack during the 2010 US.Open for the first time, when he received the main draw wild card as the 2010 Boys U18 US. Champion. He lost his first US.Open match against Marco Chiudinelli (SUI) in 4 sets and later captured the 2010 US.Open junior title. Back then, I was quite impressed by Jack's forehand, which he was unlike most other young Americans of his generation (Harrison, Young, Kudla, etc.) dominating rather by the body than by the arm action in most cases. He seemed to me like someone who was able to stay immune to the widespread "infection" by the technique focusing at the highest possible racket head speed, which is largely ignoring the importance of the dynamic total body energy for the successful combination of power and control/stability of the strokes. It was, among others, also Jack himself who brought me to the development of the model for the ideal body energy dominated modern forehand – Forehand 3.0. In the following years, Jack's development in singles was staying rather behind expectations. It was on one side surely his troubled backhand, what was holding him back, but also his forehand lost something out of its original quality as Jack seemed to get also partly infected by the racket head speed frenzy, which took him to a rather more erratic forearm action in the backswing (which was already in 2010 quite complicated) and around the impact. Only in the past less than two years, Jack seemed to be able to gradually calm down on this excessive forearm action a bit and as a result of it better focus on the body energy dominance of his forehand strokes again. In the strokes where he succeeds with that, his forehand is one of the most powerful ones on the tour today. He then still has certain trouble to keep a high percentage of the body energy dominated strokes against the very best players like Swiss Roger Federer who can keep up with this crucially important aspect at a higher rate. This tells me that Jack (unlike Federer, Nadal, Djokovic) most probably didn't discover all the essential distinct aspects of the "Tennis 3.0 Code" to be applied in the optimal "3 Step Tennis Stroke Regulation" leading to most efficient strokes yet. Perfect integration of these aspects (reference points) into player's perception (mental programming) of every single stroke then leads to higher percentage of body energy dominated and thus more stable and significantly better-controlled strokes, even under pressure. Besides that, the rather suboptimal footwork (mainly lower frequency) of quite "heavy" Jack and still quite time-consuming backswing are bringing certain limits along as well as they quite often lead to the impact point too close to the body.
Below can be seen the comparison of Jack's forehand at the US.Open in 2010 and 2016. In general, the 2010 forehand was in my opinion from the technical point of view even a bit better while more stable with less forearm action in both the backswing and the follow through. Back in 2010, Jack was also rather more often succeeding in bringing his elbow further away from the body towards the target and bending it later. On the other side, in 2016, Jack is surely physically more powerful (and heavier) than he was in 2010.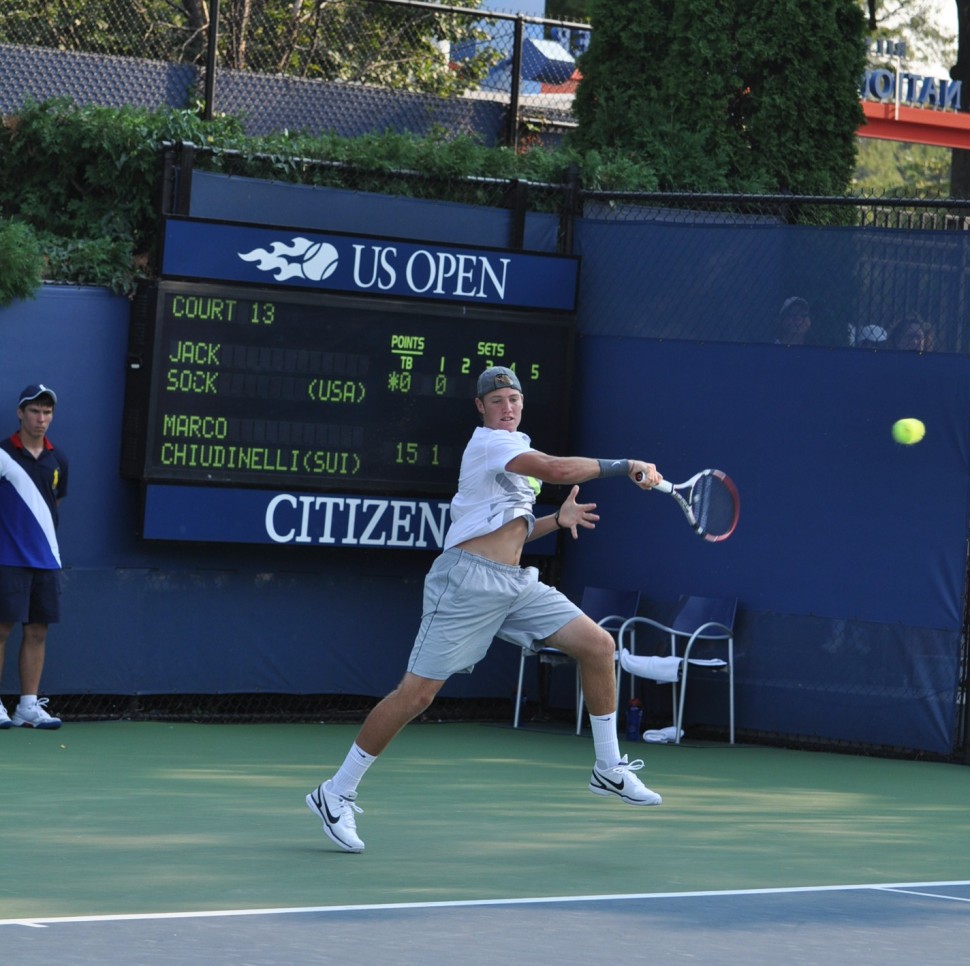 Jack Sock (*92 / USA) – Forehand 3.0 in the match – 1 of 1 – follow through 1 = targeted pronation with excellent body energy dominance of the stroke – for me almost a prototype of a Forehand 3.0 –  2010 US.Open – New York
This article is just a partial stroke analysis, more analytic photos, further details and improvement suggestions towards higher margin are available upon request at drmgb11(at)gmail.com. More information towards the TENNIS 3.0 strokes is being presented also during the "TENNIS 3.0 – Future of the Game" seminars by CPTA.
Photos (August 2010 & 2016) and text (March 2017) copyright by Dr. Martin G. Baroch. Any further publication of either text or photos with written permission of the author / copyright owner only!